The Grill Dads Website
---
When it comes to grilling, there's no one quite like The Grill Dads. Ryan Follow and Mark Anderson have been cooking up a storm for years, and now they're finally putting their delicious recipes down on paper with the release of their very first cookbook, "The Best Grilling Cookbook Ever Written By Two Idiots." But with a title like that, they needed a website that lived up to the hype. That's where DaveVSDave and the team at DeNada Creative came in, led by the talented Elvis Sierra. Together, they created an epic online experience for all the Grill Dad fans out there. Get ready to fire up the grill and dig in!
The Challenge
---
Mark and Ryan, the Grill Dads, wanted their website to match their fun-loving personalities. DeNada Creative and DaveVSDave got to work on creating an interactive user experience that blended the Grill Dads' classic humor with top-notch design.
But we didn't just stop at the surface level – we took on the challenge of building a complex and fully customizable CMS system that could handle the curved text you see above each headline. It was a tough task, but in the end we delivered a grill-tastic website that's sure to make your mouth water. So, if you're a fan of the Grill Dads, or just love a good BBQ, be sure to check out their new website and get ready to fire up the grill!
Visit the site
E-Commerce
---
With their first cookbook about to hit the shelves and hungry fans waiting with bated breath, The Grill Dads needed a website that would tantalize tastebuds and make it easy for fans to get their hands on some merch. That's where DaveVSDave and DeNada Creative came in, cooking up a sizzling user experience that blended The Grill Dads' signature humor with top-notch UI/UX. But it wasn't all BBQ and beer – we had to get creative to deliver on some of the more complex design elements, like those tasty curved headlines. And when it came to getting grub in the hands of fans, we whipped up a custom Shopify theme that seamlessly integrated with the rest of the site. So fire up the grill and get ready to chow down, because The Grill Dads' website is serving up something special.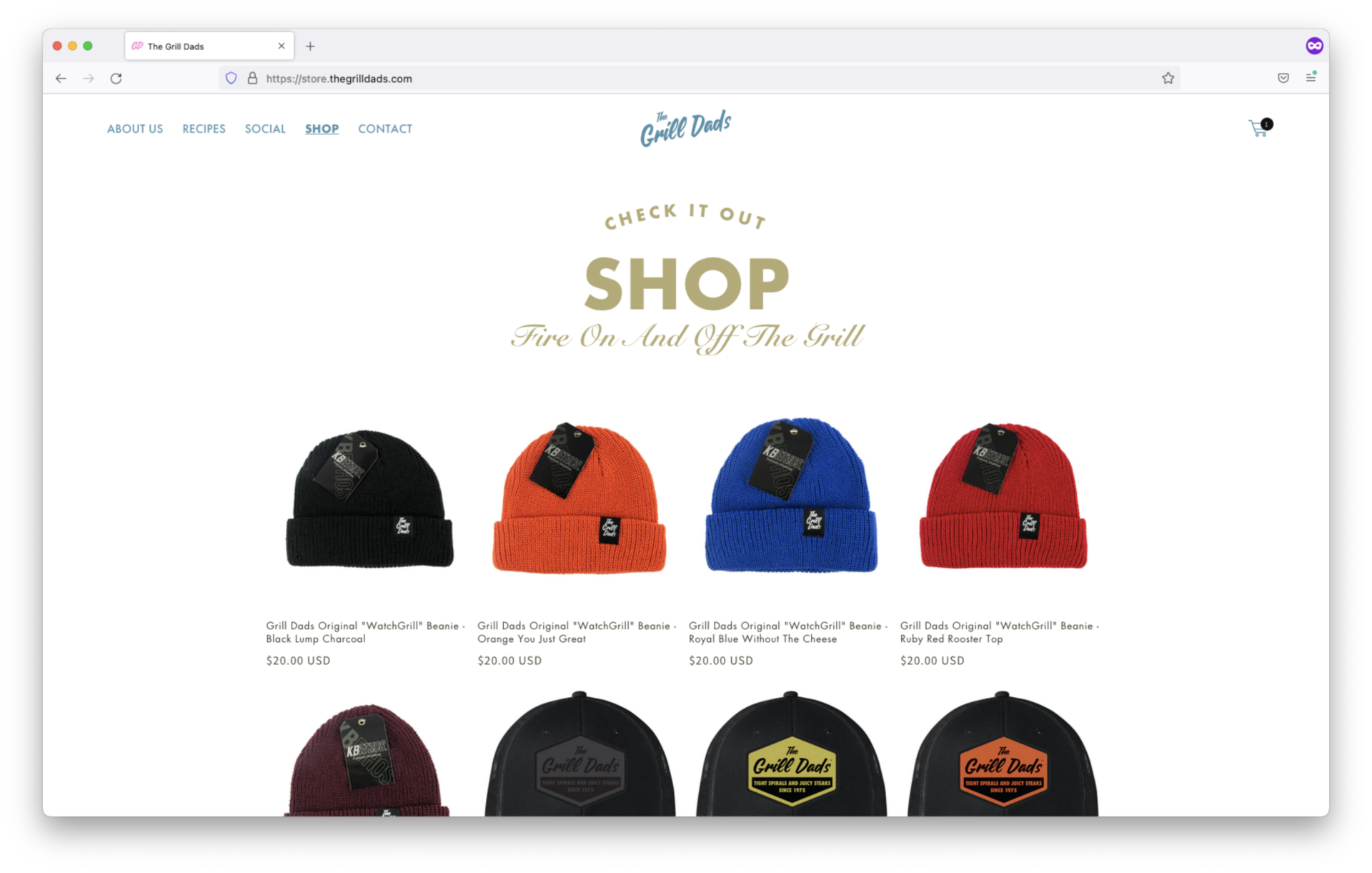 Shop The Grill Dads
Project Notes
---
Credits:
DeNada Creative, UI/UX
Trent Vanegas, Project Managment
Ryan Fey, Creative
Mark Anderson, Creative
Features & Technology:
Shopify
WordPress
Advanced Custom Fields
Gutenberg Blocks